MW-TGU360 Workshop: Beyond the Turkish Get-Up
ALL ABOUT THE TURKISH GET-UP EXERCISE AND VARIATIONS!
UN WORKSHOP PRATICO DEDICATO INTERAMENTE AL TURKISH GET-UP REVISIONATO IN TUTTE LE SUE VARIANTI ED INTEGRATO CON ESERCIZI SPECIFICI PER IL FITNESS, IL RECUPERO FUNZIONALE E LA PREPARAZIONE ATLETICA.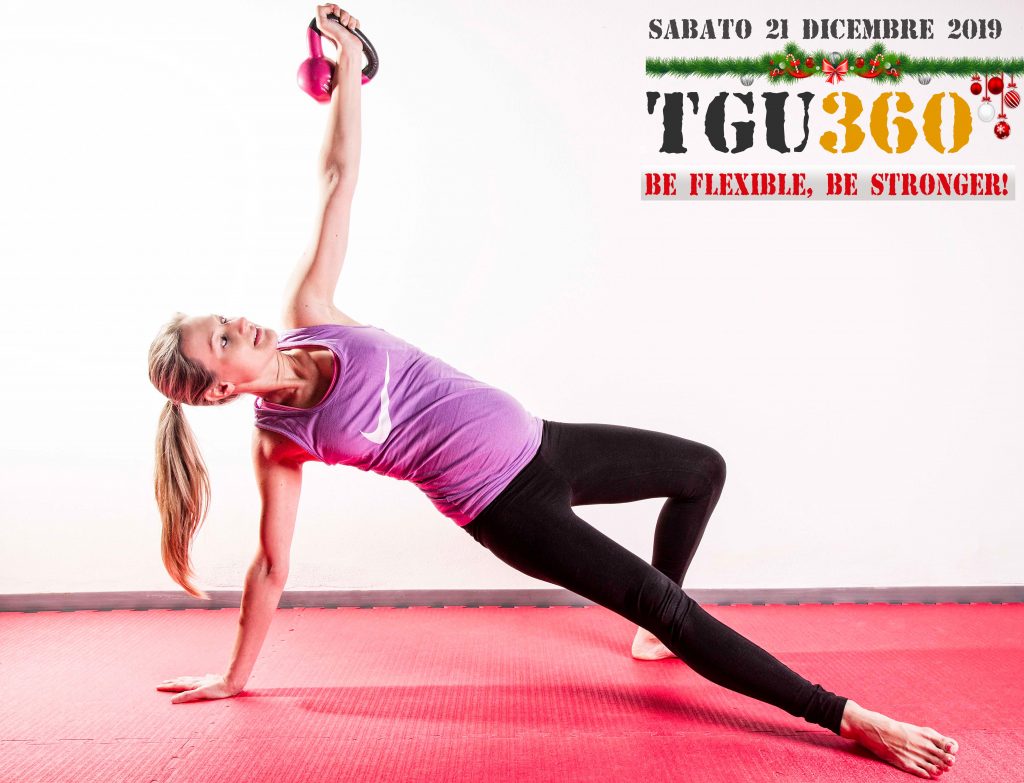 SABATO 11 GIUNGO 2022 | SKORPION CLUB
DALLE 9:30 ALLE 13:00
Il workshop è aperto sia agli istruttori di fitness / personal trainer sia gli amanti dell'allenamento a corpo libero, praticanti di yoga e appassionati di allenamento funzionale.
Per gli insegnanti: utile per approfondire le strategie correttive per meglio trasmettere le progressioni nei movimenti e riadattarle a seconda del soggetto e delle caratteristiche individuali.
Per gli appassionati e praticanti: ottimo per comprendere il valore aggiunto di questo esercizio e renderlo parte integrante del proprio allenamento in autonomia, all'aperto, in casa o in palestra!
Il workshop sarà sviluppato su 4 fasi tra loro concatenate:
Fase 1 – Dedicata al warm-up generale e all'attivazione del sistema mente-corpo. Capirete come prepararvi al meglio all'allenamento sia dal punto di vista fisico che mentale!
Fase 2 – Incentrata sull'analisi dei 7 steps che costituiscono l'intero esercizio del TGU. Ciascun movimento sarà scomposto ed integrato a sua volta da ulteriori esercizi complementari volti a migliorare specifici aspetti. Esempio: mobilità dell'anca, elasticità muscolare della catena adduttoria, stabilità di spalle e caviglie, forza di addominali e glutei (core), coordinazione e controllo del movimento.
Fase 3 – Ricerca dei punti deboli e personalizzazione dei movimenti per la costruzione di un programma correttivo e di miglioramento del gesto tecnico, fondamentale per incrementare la forza!
Fase 4 – Defaticamento accompagnato a tecniche di respirazione per il recupero generale.
Un corretto allenamento sui singoli movimenti può portare a numerosi benefici tra cui:
– Flessibilità e rinforzo catena posteriore (tonificazione glutei!)
– Miglioramento mobilità delle anche attreverso esercizi integrativi;
– Rinforzo e stabilità di caviglie e spalle (miglioramento equilibrio),
– Rinforzo e stabilità del core (tra cui muscolatura addominale),
– Miglior gestione e consapevolezza del proprio corpo sia a livello
segmentario che globale (controllo del movimento)
Imparando ad eseguire l'intero esercizio si allenerà:
– La lateralizzazione grazie ad un lavoro asimmetrico (determinazione forza espressa maggiormente da una parte del corpo rispetto all'altra, legata all'emisfero cerebrale);
– La coordinazione globale tra arti superiori ed inferiori;
– I sistemi vestibolare, visivo e propriocettivo (legati all'equilibrio e al controllo);
– La gestione dello spazio intorno a sé, attraverso la precisione nei movimenti (fondamentali per una buona tecnica che a sua volta è determinante per una buona espressione di forza!)
Quando imparerete ad eseguire il vostro TGU, inzierà il bello della challenge! finalmente potrete sfidare voi stessi mettendo alla prova le vostre capacità tecniche e di forza, utilizzando carichi sempre maggiori e rendendo il TGU un vero esercizio allenante al 100%.
Al termine del workshop saranno rilasciati:
Attestato di partecipazione al corso;
Accesso ai video tutorial relativi agli esercizi svolti tra cui tutte le varianti testate;
Sconto del 10% sulla MW Membership annuale;
Prezzi riservati su iscrizione di eventi AV Fitness Academy;
PRINCIPI > DIMOSTRAZIONE > APPLICAZIONE > CORREZIONE
Formazione intensa ed assolutamente professionalizzante. Coach Varri non solo è in grado di farti apprendere gli esercizi al meglio ma di approfondire in modo dettagliato la tecnica e le motivazioni per cui questi ultimi devono essere somministrati ai propri clienti nel modo più funzionale possibile. Dalla teoria alla pratica a 360°! Grande Andrea continua così!! ci vediamo al prossimo workshop!
MATTEO DELLAMANDOLA
MILANO TRAINING CLUB | OWNER & HEAD COACH
(...)E' stata un'esperienza stimolante e molto formativa. Ho apprezzato in particolar modo la propedeutica all'esecuzione dell'esercizio, dal lavoro sulle caviglie al focus sulla mobilità. Ho riscontrato un'attenzione particolare ai dettagli che riconosco essere fondamentali come ad esempio la respirazione, il posizionamento del bacino e la stabilizzazione dinamica delle scapole. Ritengo molto interessante la suddivisione in diverse fasi di esecuzione, che consentono l'approccio all'esercizio da parte di tutti, la ricerca di allineamento e la tecnica che consente di lavorare con precisione utilizzando un carico. Ho preso spunto e ho già messo in pratica con successo la propedeutica con le mie clienti. Grazie!
JENNY BORZUMATI
STOTT PILATES® CERTIFIED INSTRUCTOR
(...)Grandissima preparazione e professionalità di Andrea Varri in questo workshop. Non avrei potuto spendere meglio queste quattro ore. Nell'"universo" della formazione se fate un corso targato Andrea Varri non potete sbagliare. Consigliatissimo!!!
PAOLO FRANCIA
VIRGIN ACTIVE PT & MASTER TRAINER
(..)formazione estremamente interessante, sei stato in grado di sviluppare tutto al meglio attraverso un "unico argomento". Ottimo il lavoro post video e documentazione! Ritengo valida l'idea di fare 4 ore per mantenere al top l'attenzione. Che dire, la tua passione si vede!
ALESSANDRO FELLONI
VIRGIN ACTIVE PT & MASTER TRAINER
TGU 20KG ARM BAR VARIATION
RISERVA SUBITO IL TUO POSTO!