MW-FKC L2 Seminar: Functional Kettlebell Coach Level 2
September 18 @ 9:30

-

17:30
FUNCTIONAL KETTLEBELL® COACH COURSE
UN CORSO COMPLETO CHE TI PERMETTERA' DI SCOPRIRE IL REALE VALORE AGGIUNTO DEL KETTLEBELL PER IL FITNESS, IL RECUPERO FUNZIONALE E IL MIGLIORAMENTO DELLA PERFORMANCE SPORTIVA.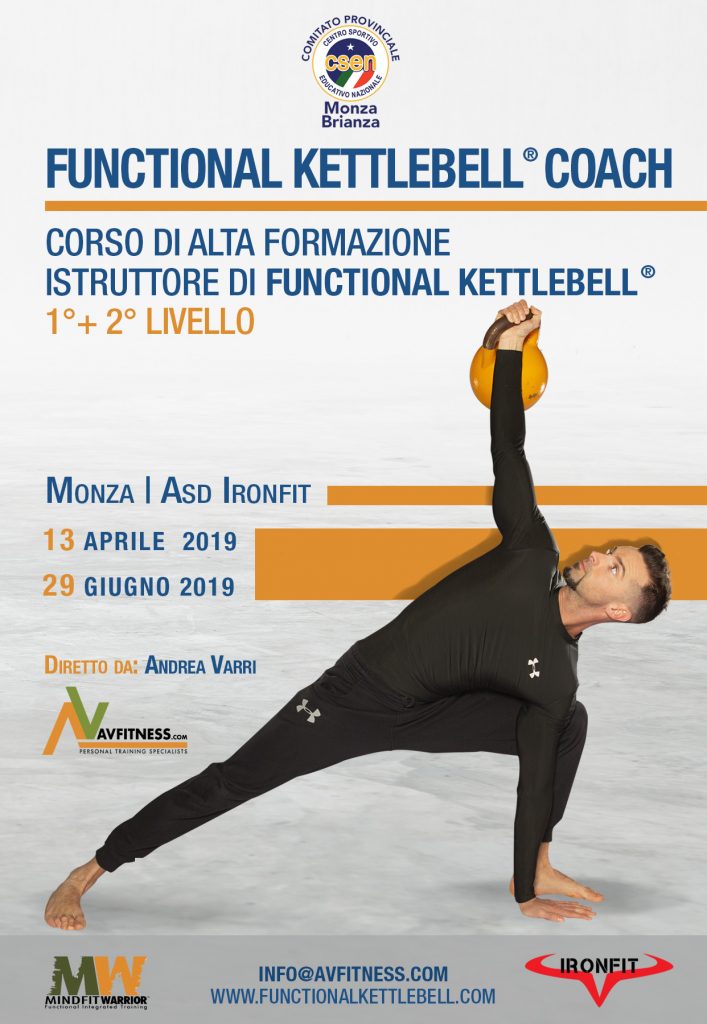 ABOUT FUNCTIONAL KETTLEBELL®
COS'E' E IN COSA CONSISTE
Functional Kettlebell® è un marchio registrato in Italia. Nasce dalla pratica del Kettlebell Training di Andrea Varri con l'ottica di renderlo il più possibile efficace per il lavoro funzionale con atleti e clienti di tutti i livelli.
Partendo dalla pratica con le kettlebells attraverso approcci differenti, FK® approfondisce propedeutiche e protocolli di lavoro specifici focalizzandosi sulle tre aree più ricercate nel settore personal training: Fitness funzionale, Rehab e Sports Performance.
PERCHE' SCEGLIERE FUNCTIONAL KETTLEBELL®
PERCHE' SCEGLIERLO | PERCHE' FUNZIONA | RISULTATI
PERCHE' SCEGLIERE FK®
Le propedeutiche e i protocolli di lavoro proposti nelle formazioni Functional Kettlebell® utilizzano il metodo di allenamento MWTS (MindFit Warrior® Training System). Tale metodo si distingue per la specializzazione di propedeutiche create su ciascun esercizio con lo scopo di rendere l'allenamento un'esperienza semplice ed efficace allo stesso tempo. Questo significa che esercizi complessi composti da più movimenti (esempio: snatch/swing + affondi o spostamenti) risultano di semplice comprensione attraverso la pratica in progressione su ogni singolo step.
SCEGLIERE FUNCTIONAL KETTLEBELL® SIGNIFICA QUINDI TROVARE LA VIA PIÙ SEMPLICE PER VALORIZZARE IL KETTLEBELL ATTRAVERSO LA GIUSTA DOSE DI ESERCIZIO E RENDERLO EFFICACE PER CIASCUN INDIVIDUO!
PERCHE' FK® FUNZIONA!
1) Functional Kettlebell® non si concentra sull'esercizio con la kettlebell ma riconosce nel kettlebell un mezzo attraverso il quale integrare l'allenamento incentrato sull'esigenza del cliente.
2) Il processo di insegnamento (per i trainer) e apprendimento (per il cliente) è reso semplice grazie alle progressioni e regressioni ben strutturate per ogni esercizio;
3) Functional Kettllebell® prepara prima di allenare! Questo significa che non basta eseguire le progressioni corrette per svolgere bene l'esercizio o un movimento. La chiave di partenza è nella "preparazione all'azione" attraverso la fase ZT1 che nel metodo MWTS rappresenta la fase preparatoria al livello 1 (fitness) di ogni esercizio;
ESPERIENZA E RISULTATI CON ATLETI DI TUTTI I LIVELLI!
Il metodo FK è il risultato di anni di esperienza quotidiana da parte di Andrea Varri dove l'utilizzo del kettlebell è stato applicato con successo con clienti ed atleti di tutti i livelli.
Un importante valore aggiunto è stato riscontrato nei seguenti contesti:
– Recupero funzionale post-traumatico (fase di "strength" nel processo si Performance Continuum);
– Miglioramento qualità della vita (lavori specifici per ogni target incentrati sul miglioramento della trilogia postura-mobilità-stabilità);
– Preparazione atletica con numerosi atleti di arti marziali (in particolare karatè) e sport da combattimento. Ottimi risultati sono stati ottenuti sul controllo del corpo nelle fasi dove l'espressione di potenza ed esplosività predomina. In questo caso l'ottimizzazione della performance è stata la naturale conseguenza di un lavoro incentrato in primis sulla prevenzione infortuni!
STRUTTURA E CONTENUTI DEL CORSO
Il corso è suddiviso in due giorni distanziati tra loro da un tempo minimo sufficiente per permettere la progressione attraverso un training nella preparazione degli strumenti acquisiti.
STEP 1: GIORNO 1 – LIVELLO 1
STEP 2: 10 SETTIMANE DI TRAINING (TEMPO MINIMO RICHIESTO PER PREPARAZIONE)
STEP 3: GIORNO 2 – TEST PRATICO DI VERIFICA LIVELLO 1 + LIVELLO 2
LIVELLO 1
Functional Kettlebell® Mission e Obiettivi;
Applicazioni nei contesti di fitness, recupero fuzionale, preparazione atletica;
Kettlebell: rischi e benefici per un trainig di valore (research and pubblications)
Kettlebell Swing: analisi biomeccanica, modalità e varianti;
Dal bodyweight al Kettlebell: valutazione e preparazione ai movimenti;
Analisi e propedeutiche esercizi fondamentali [livello 1];
Functional Kettlebell®: Warm-Up specifici;
Varianti e propedeutiche esercizi per il Fitness, Sports Performance, Rehab;
Functional Kettlebell® Training Protocols [livello 1];
LIVELLO 2
Ripasso propedeutica esercizi fondamentali livello 1;
Functional Kettlebell® Physical Test;
Personalizzazioni, teaching strategies e varianti esercizi livello 1;
Perfezionamento movimenti di spinta verticale;
Perfezionamento movimenti oscillatori;
From Swing to Snatch: propedeutiche specifiche ed esercitazioni;
Esercizi con movimenti combinati: propedeutiche e progressioni per i tre livelli (Fitness, Functional, Performance);
Functional kettlebell® Training Protocols [livello 2];
DOMENICA 17 LUGLIO 2022 (LEV.1)
DOMENICA 18 SETTEMBRE 2019 (LEV.2)
ORARI
DALLE 9:30 ALLE 17:30
LUOGO
IronFit Monza | Via Mentana,17 | 20900 Monza (MB) – Italy
Il corso è indirizzato a:
Istruttori di fitness e Personal trainer
Preparatori Atletici / Strength and Conditioning Coaches
Allenatori sportivi
Maestri e allenatori di arti marziali
Atleti che vogliono migliorare la propria preparazione
Fisioterapisti e osteopati che lavorano in campo sportivo o con atleti
Laureati e laureandi in Scienze Motorie
NEL 2010 È INIZIATA L'AVVENTURA CON MILITARY WORKOUT®. LA STORIA DELLE EDIZIONI PASSATE CI PERMETTE OGGI DI RICOMINCIARE CON UN NUOVO PERCORSO ED UN METODO IN PIENA EVOLUZIONE IN ITALIA E ALL'ESTERO.
FKT-LEV.1 FIRST EDITION|2015
FKI-LEV.2 FIRST EDITION|2016
RISERVA SUBITO IL TUO POSTO!